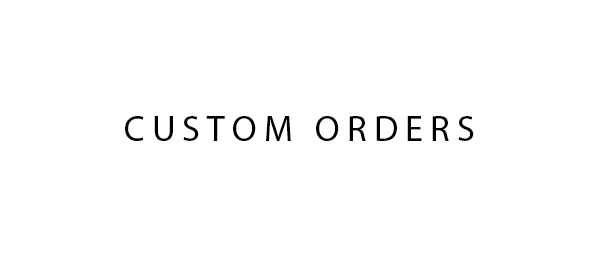 TSG has years of experience working together with our clients to create custom-made glassware merchandise according to their project budget, quantity, and lead time. Our creative and engineering team propose workable design plans, three-dimensional models, glass samples, and production processes tailored to your professional needs. Contact us today to discuss these options.
Custom Designed and OEM Glassware
TSG provides custom-designed and OEM products to domestic and overseas clients to serve their special requirements and market needs.

Machine-made production

best-suits glassware that requires to be uniformly mass-produced, such as OEM merchandise and promotional premiums.

Hand-made production

allows greater flexibility and diversity in the choice of techniques and coloring options. It also gives each glassware a distinctive one-of-a-kind feel. Our experienced glass artisans are ready to hand-make even one piece of glassware for you.
We provide symbols of gratitude for important milestones and celebrations. We provide vases, wine glasses, and other glass products to commemorate events such as the founding of a company, school, or other organization, as well as retirements or graduations. These gifts are made with the original technique of our craftsmen and may be tailored to meet the needs of a variety of customers.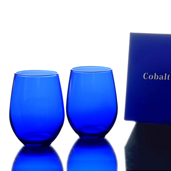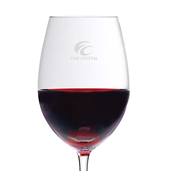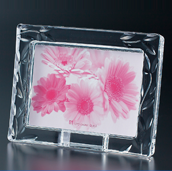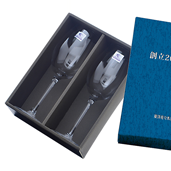 PRINTING AND AFTER PROCESSING
TSG offers top-quality printing and after processing services catering to the needs of our customers.
Screen Printing
TSG offers advanced screen printing services for multi-color graphics and designs on the glass. In additional to the standard printed glassware collection in our catalog, screen printing is also available for publishing your company logos, names and graphics which turns TSG glassware into excellent advertising media for your business. Standard ceramic inks, semi-transparent inks, and crystal ice textured inks are available to serve your needs.
Sandblasting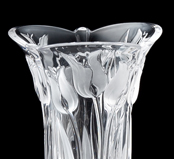 Frosted designs are created by high pressure sandblasting equipment. Sandblasting is a process in which fine silicate particles are blown onto the glass surface to produce the graphics desired.
Cut Glass Processing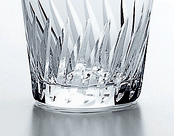 Beautiful cut patterns are engraved by fast-spinning diamond wheels using original cutting technologies developed by TSG.
Laser Marking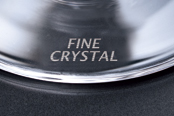 State-of-the-art laser marking devices are employed to imprint letters or graphics onto/into the glass.